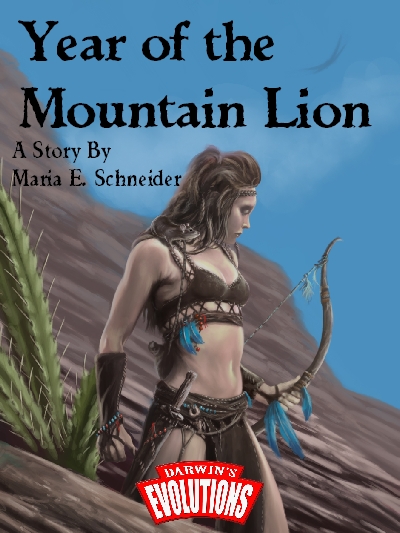 Yes, here we have yet another release of e-booky goodness over at Darwin's Evolutions. This time it's Maria Schneider's tale of desert pursuit and survival,
Year of the Mountain Lion
. Maria has a great writing voice, awesome characterization skills, and a solid sense of plot timing. Mountain Lion makes for a great short fiction read. I highly recommend it. Hit DE for a
free 500 word sample
.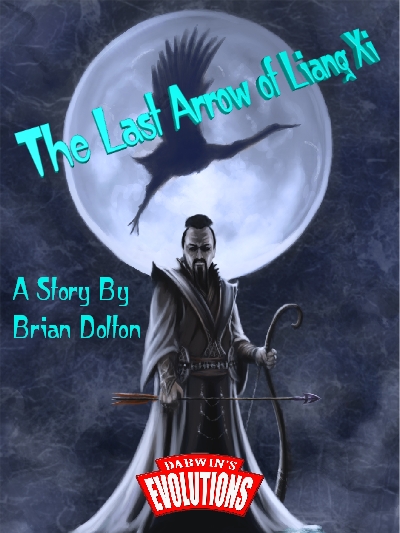 've started the process of re-releasing all the stories previously published in Darwin's Evolutions: A Journal of Speculative Fiction webzine under the new Darwin's Evolutions e-book small press imprint today. It kicks off with Brian Dolton's "The Last Arrow of Liang Xi", the very same story whose e-book version helped me decide to give the small e-press option a go. Drop by
Darwin's Evolutions
for a free sample of the story and links to Amazon and Barnes & Noble where you can pick up a copy for your Kindle or Nook!
I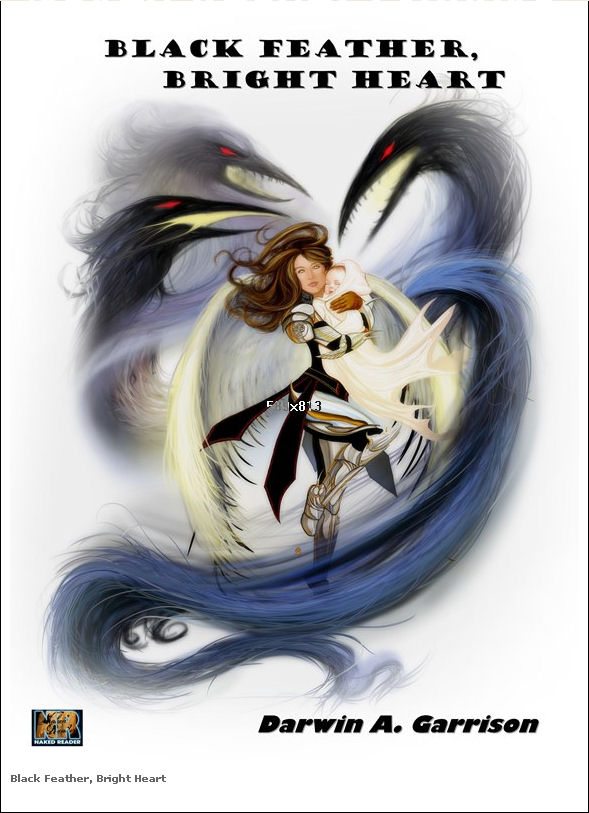 Naked Reader
released another of my short stories today as an e-book. This one is "
Black Feather, Bright Heart
", a fantasy. I think Amanda did a pretty good job summarizing it on the product page, so I will leave it at that. Conflict, heroism, romance. It's that kind of story.
They have also released my story "
Skipping Stones
", which is a near-future SF story about a man who joins an asteroid belt race in the hopes of giving his beloved something she desires. The fact that he didn't bother to verify this before proceeding is just another reflection of how men and women need to work more at communicating.
Both e-books will shortly be available for instant download via Amazon or Barnes & Noble for your Kindle or Nook.
Please feel free to check them out.
author blog
, I take a moment to talk about the genesis of my short story,
"Skipping Stones"
, which
Naked Reader Press
has released today on their website.
"Skipping Stones" tells the story of Gus Harmon, an asteroid belt prospector, as he risks everything on the slim hopes of winning a popular sling ship race from Palas to Ceres. There's love, jealousy, intrigue, and an AI named Igor with a rather classic speech impediment. This is the story that took second place in the 2008 Jim Baen Memorial Short Story Contest. Sadly, despite sending it out and about, I never managed to sell it until Naked Reader Press came along.
I suspect this will be the high point of my writing career. Be a shame if folks were to miss it.
Over on my
DE blog site
. Just so LJ folks know (that'd be you, Zette and Nancy.)
Posted a reply to an honest question today on the
Just wrote a new post about the "Why?"s of Evolutions' return as a anthology series.
You can read it all
here
.
D
Cross posting here so people can find the new post on the Wordpress site.
Just a quick note here in LJ before the listing in Ralan's goes live.
I'm bringing Evolutions back from the grave but in a different format than before. Instead of a free-content webzine, it will now be an anthology. Instead of short fiction, I'll be looking for novelettes and novellas.
Each antho will be a minimum of 120k long. This means, worse case, about 12 stories, although I doubt it'll be that bad for any one issue. Output will be primarily ebook (Mobi/Kindle/ePub 3.0) with Lulu PoD for dead tree.
Pay this time will be $25 at contract time, $25 at publication for a total of $50 advance per story. If by some weird twist of fate a collection earns out to the point of making a profit, then each contributor (staff, authors, and artists) get an even share as a royalty.
Anyway, that's that. I remain firmly convinced that prose isn't served well by the free content model that seems to drive webcomics. On the up side, though, eBooks are finally becoming a viable marketing path alternative with the potential of increasing author fortunes. In retrospect, and without the lingering PTSD effects from my last job twisting my attitude around, I think that the anthology approach is more likely to lead to lasting success. It certainly reduces the load I have to carry as the editor/ringleader.
Here's the linkage: Darwin's Evolutions
Feel free to check out the updated site or not as your interests dictate. I have no doubt I'll be inundated with slush ere long, especially since I didn't leave anyone hanging for money last time. Please note that LJ is like the last thing on my mind anymore. Sorry about that. It just doesn't hold a candle to running things via WordPress anymore.


The story I'm going to work on for Nano is called "Strange Saviors". It's a space-opera bit about a small group of PTSD vets with a shot-up ship and no hope meeting a group of refugee kids who've been living in the shadows on a station between two equally violent and abusive power factions. The telling will all be in the various character interactions between the vets and the kids and how they move forward.

Then again, it's Nano, so I really am not going to worry too much about "message" or "staying on target" so long as words fall out of me onto the computer.

At the same time, I'm going to be directing some effort at closing off "Spell Weaver", the long-term project that I've had with Kate Paulk. It's sat at 89k for years and the story deserves better than that.

There's also the whole issue of whether or not I'm going to bother with the Jim Baen Memorial contest this year. Last year's entry was so pathetically sucky that I feel ashamed for having sent it in just so I could say I entered. Unless I do a whole lot better this year, I won't bother burning the ether with the data.

On other topics, I continue to be amazed at how much desperately the old guard is clinging to their failure-proven models in the face of the advent of e-publishing. E-readers are changing the market and the world one I-phone, Wal-Mart, and Target at a time. I remain confident that "DRM" will eventually prove to be an inescapable anchor around the neck of traditional publishing models. The real growth belongs to the upstart publishers and visionaries like Baen who realize that their customers are not criminals.
Well, once again I'm going to try and participate in Nanowrimo. It's long since past time that I got up, dusted myself off, and got back into the fray.
Actually posted something over at Evolutions. Gist of it is that all stories in Slush or that I was considering are officially "Released" as in I'm not buying anything, anymore, for the foreseeable future (maybe ever). Writers and artists who want their stuff pulled need only ask and I will comply. I also mention that I plan on using Evolutions primarily to post my book reviews and the occasional odd thoughts about writing.

I don't have a problem using Evolutions that way nor do I mind using it to help my writer-friends/colleagues use it as a portal to share "value-added" marketing shorts/whatnot. Point being, other than paying for the hosting and the URL stuff, I'm not dumping any more change down the well. "Free-content" is nothing but advertising when applied to prose. I'm sure someone will jump up to ram an exception or two to this down my throat, but that's why they call them "exceptions" and I believe that any kind of true success at "Free-content" donation-profit model prose release is more likely to flow from already having a ready reader/fan base rather than being something "cool" that gets boosted by the denizens of the net.

Of course, I have given Evolutions little more than a child's care, so it doesn't really count. My lesson from this is that, although I can edit, it's not something that I long to do at odd hours of the day and night. I've also realized that, for me, writing is something that I must do for my own enjoyment and edification first. I have to be happy with what I'm producing or interested in the outcome or I frankly will just quit caring and walk away from the carcass.

There's certainly no profit motive or return on investment in prose to sustain the kind of effort it requires, otherwise. And please don't point to some uber-successful asshat like Weber, Scalzi, or whoever your favorite over-hyped market-setter du joir is. They're complete and total outliers who suck up way too much of the available spec fic author money for what they deliver and their results are meaningless for 99.9999 percent of those who write.

Anyhow, that's it for me. I'm going to try to find the joy and fulfillment of writing again and post stuff to Evolutions that I want to share just for the fun of sharing.

Oh, I did decide something else. After I send a story 'round to all the pro markets and get rejected as will undoubtedly happen, there's no reason that I can't gather them up in 100k batches and self-publish collections on Lulu for my own enjoyment. That way, if someone wants to see my stories (as has actually happened a couple of times, believe it or not), I can give them an actual print copy to read instead of sending them a batch of computer files that will probably never get opened. An added benefit is that I can have non-volatile and nicely bound copies of my stories safely stored with my purchased books. That way, if I ever lose all my computer files somehow, I at least will have a compact and easily accessed backup copies as opposed to bulky 8.5x11 single-sided MS copies eating up too much space in my office.

Plus I now know enough artist-y people that I can work with cost-effectively to get decent art and illustrations for my own stories. JOY!

The primary reason for that is me because I am Evolutions.
Seriously. Just me. A guy with a measly three published short stories who barely knows how to run Wordpress 2.5 and can't upgrade to save his ass. (I keep destroying the database on the dummy site I've been using to experiment.) Editor? Why do I call myself that? Because I'm the only one doing it. Ergo, that's the only title I can use. I don't feel like an editor, but since I write checks and do all the editing and layout crap, editor it is.
But, the key point is, it's not working. It's not working for lots of reasons but mostly because I lack the necessary OCD to run something like this solo. Call me an odd duck, if you like, but I'd really prefer to work this in a team environment. I prefer to have people to bounce things off of and listen to. I don't want to live in an echo chamber. That was never the point of this effort.
Which, oddly, brings me around to what I wanted to talk about.
See, I've been spending a bit of time pondering about what the heck I should do with Evolutions since: a) I have no motivation whatsoever to work on it and b) I have no money to spend on it anymore since I'm with the 17-20% of Americans who are more or less still screwed by the recession and unemployed. (Read that last bit as "Darwin ain't got no money."
Part of this has to do with the ongoing maelstrom that is e-publishing. Amazon, MacMillan, whatever. The big boys are busy stepping on each others feet to the detriment of authors and genres pretty much everywhere. The thing is, the big boys are so disconnected from their market base that it'd be laughable if it weren't so damned tragic. Well, emotions start to come to the fore at this point, so I'd best leave off that for a minute otherwise I'll get a spittle-flecked rant going, and that's not what I want.
The key is, I deviated pretty wildly from what I originally wanted to do with Evolutions and that deviation has trashed my enthusiasm. See, the point of Evolutions was to provide an alternate path to publication - to open another door, no matter how cramped, for fiction to get out into the world. I never really wanted to follow the traditional "periodical" model, though. I just kind of ended up there, which was the big mistake.

Read more...
Let me be straightforward here: Evolutions isn't working.
Current Location:

Office o' doom

Current Mood:

blank

Current Music:

Indestructible by Disturbed